1. Type the following into your web browser, ensure you have the https at the start
If you get a certificate message like the one below, click Continue

2. Enter your Sophos username and password and then click Login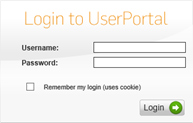 3. Once logged in, click on Remote Access from the menu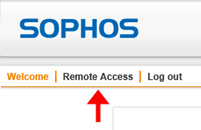 4. Choose the third option down and click Download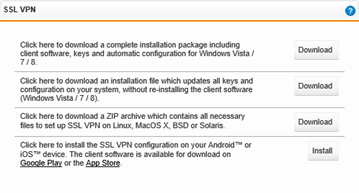 5. Next you will need to download a program to manage the VPN access, the program is called TunnelBlick.
Visit https://tunnelblick.net/downloads.html
Choose the latest release from the top of the page, we wouldn't recommend downloading a beta release. Begin your download and wait for it to finish. On completion of download, run the install file and move the application to your Applications folder and your Dock.
6. Go to your Downloads folder and look for a folder called config. Go into the folder and then double click the second folder within it. You will then see a list of files similar to below, double click on the file with the .ovpn extension on it.

Upon clicking the next message will appear, click on Show Web Page. Close the browser window that immediately appears after.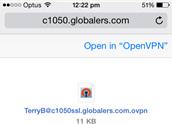 Then double click the .ovpn file a second time, click Open this time and enter your machine username and password then click OK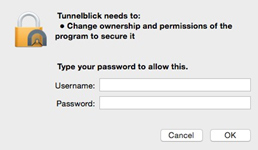 7. On the top right hand corner of your screen you will now see a new icon to the right of the magnifying glass, this is TunnelBlick. Click on it to see a list of options, you should see the Open VPN address in the list with the word Connect in front of it, click on it.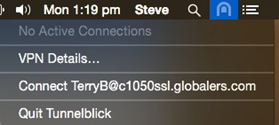 8. Enter in the VPN details supplied to you, consisting of a Username and Password. You can choose to save the details in your keychain if you wish.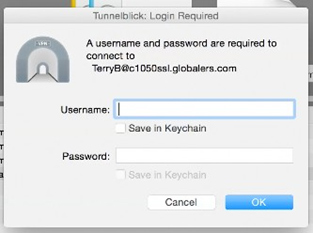 It will go through the stages of preparing and assigning the IP, you are good to go once it shows as Connected in green.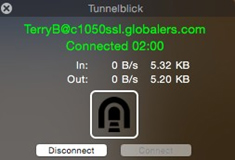 8. Final step is to get a Remote Desktop Connection program; this will allow you access into the server. This can be obtained for free from the Mac App Store, access the store from the Apple menu.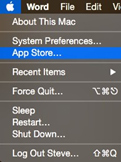 Once in the store do a search for RDP, and you will see Microsoft Remote Desktop client, click Get to download. You may need your iTunes username and password here. Once downloaded, move the application to your Dock.

9. Open up Microsoft Remote Desktop and click on the + New icon.

10. Enter in Connection Name eg. My Remote Login. Put your server IP address into PC Name field. Then enter Username and Password. Close the window and you will see it appear under My Desktops. Then click on your new connection from the list to enter the server and begin.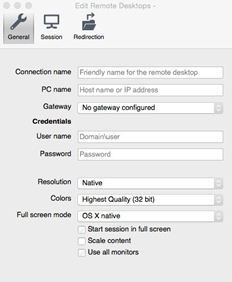 If you get a message similar to below regarding verification of the certificate, click Continue.